Critter Karaoke

Make your Party DIFFERENT!

Tired of the same old boring parties? BE DIFFERENT!

Hire Critter Karaoke!

Can't SING?? Well that's what makes it fun!


Karaoke Definition: A music entertainment system providing prerecorded accompaniment to popular songs that a performer sings live following the words on a video screen.


Critter Karaoke of Orlando Florida  Email for more information!!!

We use CD's with graphics and have books with songs listed in alphabetical order by song and artist. We provide all equipment including microphones, audio,and TV's.

Best of all you have nothing to worry about since we will set up and operate for you!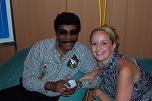 Critter with Herb Reed from "The Platters"


Debbie Gibson

singing Karaoke